Hey there,
as announced, here are a couple of questions that we had during our beginners game... I'm sorry that they are reeeaaaally technical, but that happens when 4 academics (and 3 of those studied math...) play a game.
1. Line of sight/ranged combat clarification:
In Example 1: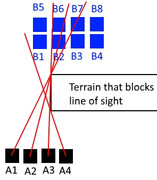 A1 can see 5 enemy Miniatures (B1, B2, B5, B6 - B7 partially)
A2 can see 4 Miniatures (B1, B5, B6 – B2 partially)
A3 can see 2 Miniatures (B1, B5)
A4 can see no enemy Miniatures.
Does that mean, that Unit A is considered to see 5 Miniatures (B1, B2, B5, B6, B7) of B, while A4 can not participate in any ranged combat against B, while B3, B4 and B8 are safe from any ranged damage?
So the three Miniatures A1-A3 can shoot on B normally, and if they inflict more wounds than they would need to kill the 5 visible Miniatures, the excess damage is simply lost?
2. Line of sight - Units blocking vision
If the terrain indicated in the picture above would be a Unit in closed formation (or a big Miniature). Do I check line of sight with the outline of the bases? (basically assuming all Troops are cuboids with the measurements of the base and a height according to the volume of the troop when determining line of sight instead of taking the pose of a miniature into account)
3. Range 1
a) Do I measure range by measuring the closest distance between the bases? (→ red line in Picture)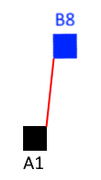 Assuming so...
b) Unit A tries to shoot Unit B. The red lines indicate the maximum range of A.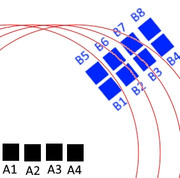 A1 has 2 Bs in range.
A2 has 4 Bs in range.
A3 has 6 Bs in range.
A4 has 6 Bs in range.
Are B4 and B8 safe from damage?
Is Unit B considered in range?
Which of the miniatures of A can participate in the ranged combat?
4. Range 2
Taking the example from the last question, but let's say the red lines indicate the border between mid- and long-range, while all Bs are at least in long range of all As.
Is Unit B considered at long-range or mid-range?
My guess would be mid-range, since in total I count 18 times mid-range and 14 times long-range (when checking each pairing of A and B for range...).
Or is the target unit simply considered as one, and the nearest Miniature counts? (In this case: B1/B5 are in mid-range for all As-> Unit B is in mid-range.
5. Spending an order on a reaction
Player A rolls 2 Orders + Ki for his active unit.
Player B then attacks a reactive Unit of Player A, forcing A to use one of his Orders on the reactive Unit.
Can A activate a Ki-Abiliy of the reactive Unit instead of the active unit?
Also: Does the activated Ki-Ability have to be declared immediatly after rolling a 6+ on an order roll?
Soooo... yeah, that's it for now.
As I mentioned somewhere else, we spent way too much time for my taste during the game discussing how line of sight and range works...
Best wishes,
Cara