KENSEI :: RAID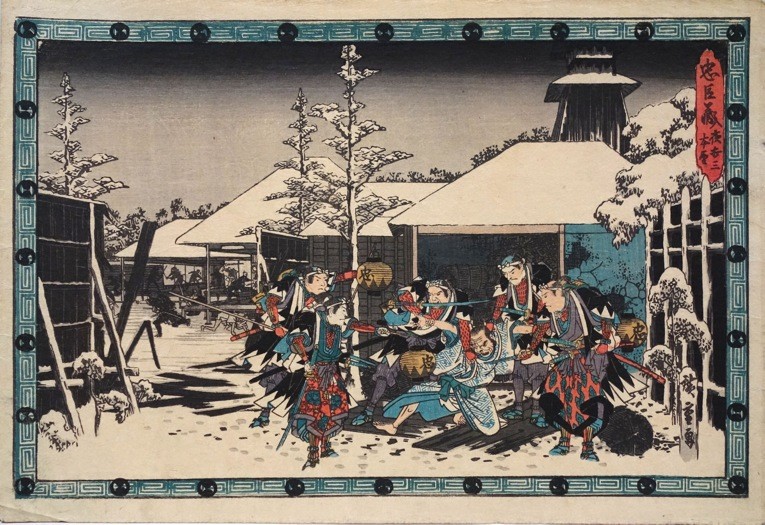 spanish version in the second post
-- "Sir, we will never be able to trespass those walls with their artillery pinning us, it would be a carnage.

-- Gather our best men, we will use the night, break the cannons and open the gates form inside. It is not time for great armies, it is time for a raid!
Raid is a new game mode for Kensei - the miniature wargame inspired by a fantasy feudal Japan. In this mode we will enlist less miniatures than a Kensei battle, fighting in a much more crowded with scenery game table and where missions are much more diverse and important. Raid uses the same Kensei's rules but adapting some to the new game scale.
Kensei: Raid is played with armies formed by between 100-200 army points. This little army will be created using the same kensei's troops but the units will be formed by 3-5 miniatures and all of them are considered skirmisher troops.
To play this mode you will need a copy of the Kensei's rulebook, dice, command desk, usual kensei's tokens and measuring tape as you would use in a kensei battle.
last update: October 3th, 2018
Index
Game Table
Raid Creation
Rule modifications for Raid

Troop profile
Units
Skirmishers
Hand to hand combat
Removing casualties
Mele movements & Pushing

New Rules

Orders
Lead order
Multiple orders
Fall and Leap into the void
Burning down

Come into burning buildings

Scenario seeds
Game Table
It is recommended to use at least a 90x90cm. game table with many scenery elements. Each battle scenario must indicate the minimum scenery needed.
Raid creation
Raids involve 100-200 army points battles.
Multiple miniature units must have between 3 and 5 miniatures when are deployed.
100 points army can enlist 2 heroes (instead of 1).
The minimum percent for warriors switch from 20% to 10% as long as these commandos are formed by the best troops.
The rest of common rules for creating armies remains.
Rule modifications for Raid
For these new game mode we have adapted and created some rules in order to make this new game scale more enjoyable.
Troop profile
Troops add +1 to their Wounds Attribute, resulting as:
Warrrios: 2 wounds
Elite: 3 wounds
Hero: 4 wounds
etc.
Units
Multiple miniature units must be formed by 3-5 miniatures at the beginning of the game, considering them skirmishers troops. Close formation is not used in Raids.
Troops which have the key "skirmishers" in their profile use the normal cohesion distance for open formation, 5 cm. Any other troop uses the open formation but their cohesion distance is 2,5 cm.
The farther miniatures of a unit must be within 20 cm. each other when using open formation.
Skirmishers
Any troop that declares a shoot order against an open formation unit that is at mid-distance or long-distance apply -1 to its Shoot Roll.
Hand to hand combat
It is only considered in hand to hand combat two miniatures that are in Direct Hand to Hand Combat. In other words, two miniatures that completely face one of their sides. That means, only miniature can only fight against 4 enemies maximum.
Obviously, any modifier concerning to close formation is ignored.
Removing casualties
Only miniatures in direct hand to hand combat can be selected as casualties during a hand to hand combat. Extra wounds are ignored.
example 1: one unit have 3 samurai miniatures and one of them are in direct hand to hand combat with an enemy unit. The samurai suffer 3 wounds so they have to remove the miniature in direct combat, the third wound is lost due there are not extra miniature in combat.
Those wounds that can be absorbed by the unit and stuned markers are applied to the whole unit, not to any specific miniature.
example 2: the same case of the example 1 but this time the samurai have 2 miniatures in direct hand to hand combat. The unit suffers again 3 wounds so they remove 1 miniature (one of those in direct combat) and the whole unit receive one wound marker due there are a second miniature in combat which is not casualty.

Mele movement and Pushing
Besides normal mele movement, a miniature that won a battle can, if the player wants that, push the enemy miniature if they remain in direct hand to hand combat. The pusher miniature cannot perform any mele movement but the pushed miniature must be moved 5 cm. back, being disengaged of the combat.
A pushed miniature can pass or finish his movement within 1 cm. of an enemy miniature. In that case the movement stops and the moved miniature is engaged in combat with the new miniature.
New rules
Lead order
The new
Lead order
can be used. It is described in the official Kensei's forum rules section.
Multiple orders
Any unit that get at least 2 orders in its Order roll can use up to 2 different orders when is activated. The unit must declare and perform at that exact moment indicating which miniature use each order and wasting all its Activation Orders as long as one order goes to each action (in example, it would be no possible to run).
There are some restrictions when using Multiple Orders:
No miniature of the unit can get out of cohesion.
Cannot be used with the new order "Lead".
example 1: A unit of 4 miniatures get 2 Activation Orders after its Order Roll. They are next to an exit door, so the player decides to use a Multiple Order. 3 of the miniature will use "Shelter" and the last miniature will use "Interact". The miniature interact and perform the Interact Roll. Afterwards the whole unit receives a Used Unit marker.
example 2: A unit of 3 miniatures uses the multiple order of "Charge" with 2 of the miniatures and "Move" with the third. The charge movement and the normal movement are performed and then the combat behind the charge. When it is done the whole unit receives the Used Unit marker. The unit's miniatures cannot move out of cohesion at any point of the activation.

Fall and Leap into the void
A Fall is caused when a miniature must perform a vertical movement unwittingly (i.e.: when is pushed from a roof). A miniature can
For each falling miniature, the owner player must perform a Wound Roll, adding 1D6 for each fraction of 5 cm. (i.e: 1 miniature fall 8 cm, the player must roll 2D6 and the miniature get wounded with a 4+ roll).
A leap into the void is when a miniature perform a vertical displacement willingly from a high of more than 5 cm. It is considered like a fall but the Wound Roll apply -1 (the miniature is wounded with 5+). The miniature, no matter if receives any wound, can continue with its normal movement, resting half of the vertical displacement (rounding down) in cm.
example: an infantry miniature jump from 9 cm, it will be able to reach ground and continue its movement resting only 4 cm. It will be able to move 6 cm. more (besides it has to do the Wound Roll).

For both Wound Rolls (fall and leap into the void) ignores any armour modifier (creatures do not ignores armour modifiers as long as it comes from their own skin).
Burning down
Any torop can perform an "Interact" order trying Burning down any scenery element. The scenery element will burn if success and the fire will affect within 3 cm around the element. Place any fire marker in order to keep it in mind.
During the turn's Maintenance Phase, perform 1D6 Wound Roll to each miniature in contact with the fire. This roll apply -1 (the miniature is wound with 5+).
The burning scenery element looses 1D6 structure point during each Maintenance Phase. When the structure points reach 0, remove the element from the table.
Come into burning buildings
Some missions requires come into building and your enemy, wisely or cruelly, could burn it down totally or partially.
A miniature that want to come into a burning element must success a Honour Roll. If during the next Maintenance phase is still inside, the miniature must perform the 1D6 Wound Roll.
For each consecutive Maintenance Phase the miniature is inside the burning element, apply +1 (cumulative) to that Wound Roll (+0 the first turn, +1 the second one, etc.).
Scenario seeds
Some titles for hypothetical missions that would be used with this new game mode. Let your imagination fly!
Patrol
Stole the script
Assault to the entourage
¡Murder!
Open the gates
Disable the artillery
Sea raid
Burn the temple down
The cave of laments
Survive!
¡Huida!
Night attack to the camp
Forest ambush
A tunnel to inside
The last bridge
On board!
The heir must survive!
A demon in the village